Celeste is a time slip YA thriller. It's set in modern day Coventry and it's Medieval past. It's the haunting tale of Megan Miller's discovery that she has lived - and died before.
It begins with feelings of deja vu, then come the dreams and the haunting. The terror of some dark presence whispering in her ear...Where did you hide it?.
<
| | | | | |
| --- | --- | --- | --- | --- |
| | Buy online: | | | &nbsp |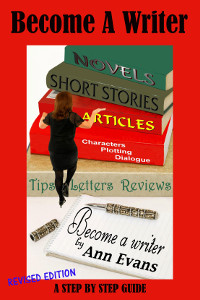 Become a Writer – A Step By Step Guide takes a logical step-by-step approach to the craft of writing both fiction and non fictoon. – Every chapter comes with practical writing exercises for you to work through
which gradually build on your growing expertise. Become a Writer will provide a solid foundation for you to build your writing ambitions on.
<


A Tropical Affair sees Shannon's life turned upside down when Dane Kincade arrives with his ambitious plans to destroy her family's copra plantation and change lives forever. First published by DC Thompson as a My Weekly novella, now available as an ebook and in large print at your library.
| | | |
| --- | --- | --- |
| | Buy online: | |


The Trunk - Charlie is dying to know what's in the trunk that his new and strange neighbours have dragged into the house. He becomes more intrigued when he hears bone crunching noises coming from next door... The Trunk is one of the books in Penguin Australia's Eerie Series. Copy and paste this link into your browser to see their TV advert: http://www.youtube.com/user/PenguinKidsTV?feature=watch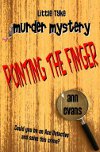 In Pointing the Finger Daniel takes on Gibbets Hollow as part of his paper round. It doesn't worry him that this lonely lane is supposed to be haunted. He doesn't believe in ghosts anyway. But he soon discovers that there are some strange people living in Gibbets Hollow and when one of them is murdered – stabbed with a pitchfork, Daniel is convinced the police have arrested the wrong person. With the help of his pal, Tim, they endeavour to unearth the real killer - but they are treading a dangerous path.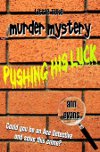 In Pushing his Luck we see that Rachel and her little sister Jessica, love listening to the wonderful stories their elderly neighbour, Henry tells them. So when Henry is found dead at the bottom of the stairs in their block of flats, the girls are devastated. The police believe Henry lost his balance and fell, but Rachel and Jessica are convinced that he was pushed. That it was murder…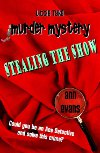 In Stealing the Show Emma and Lucy experience the chance of a lifetime. Emma has won a competition to spend the weekend with the hottest new boy-band around, Street Wise. She and her friend, Lucy fly to France on the band's private jet, watching the concerts, going backstage… It all sounds brilliant. Until something deadly happens…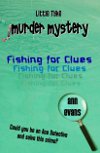 In Fishing for Clues Jake and Candy help their dad to clean up his new canal narrow boat. But there's a mystery surrounding the previous owner - Benjamin Fisher has simply disappeared. No one knows where he's gone – or do they? As Jake and Candy begin to find out more about Benjamin and the people he knew, they start to think there might be more to his disappearance than meets the eye…


Have you ever wondered what it would have been like living in Coventry when Lady Godiva was there? What about being a silk-weaver for the rich factory owners in Georgian times? This book will uncover the important and exciting things that happened in your town. With a helpful timeline, fun imaginary accounts, cool old photos of places you ll recognize in Coventry and amazing top facts and information, you will discover things in Children s History of Coventry you never knew about your town. Investigate the people and events that have defined your home town: Who was Boudicca? When was the first penny-farthing built? Open the pages to find out the answers! Written by local authors in conjunction with educational experts and local history experts, discover History on your Doorstep! Each book has been thoroughly checked and researched for complete accuracy.
| | |
| --- | --- |
| Buy online: | |
| | The haunting Beast trilogy climaxes in a terrifying tale of a battle beyond the grave.When strange tremors shake the earth and buildings are mysteriously crushed near an excavation of mammoth remains, Jack is the only one who realizes that the events might be connected. But how can he possibly stop a ghostly rogue mammoth on the rampage? Disturbed from his eternal sleep in the nearby Valley of Shadows, the spirit of a sabre-toothed tiger known as the Beast is about to face the battle of his afterlife.Readers will be gripped by this chillingly original tale - a fittingly fearsome and unforgettable finale from the author of "The Beast and The Reawakening". |
| | The peace of a remote Scottish valley is shattered when a team of ghosthunters arrive, intent on tracking down the vicious spirit of a sabre-toothed tiger, rumoured to have attacked two children. Daniel is sceptical - he only joined his dad on the trip for fun - but then he starts having strange paranormal experiences. It seems that the beast has returned and the hunters are to become the hunted. |
| | The remote and dramatically beautiful Scottish valley seems like the perfect spot for a family holiday but as soon as Amanda arrives she can't help feeling something is wrong. No-one listens to her fears, even when she sees mysterious shadows on the mountainside and strange scratches on her brother Grant's back. Soon Amanda and Grant are locked in a deadly battle with the terror that is stalking the Valley of the Shadows. |
| | Sophie is going on an exciting school trip that will include abseiling, canoeing and rock-climbing. But she finds more adventure than she bargained for when she finds herself being watched and followed. Everybody keeps talking about a girl who disappeared from the centre last year. And Sophie's got a terrifying feeling that history is about to repeat itself. |
| | Laura, Bethan and Gary are pleased to visit Cottesbrook Rare Breeds Park. But soon they find that the park is full of lies and secrets. Laura and Bethan know they've seen a wolf prowling through the woods which everyone tells them doesn't exist. A deadly wolf which seems to be stalking its prey. |
| | When Amber is asked to keep an eye on her mischievous cousin, Dean, she knows she's in for trouble. She just wants to enjoy her holiday, but wherever she turns, mysteries lurk. Amber encounters the unfriendly couple with something to hide, and the ghostly faceless rider on the clifftop. |